about The photos of Alfredo Li Pira


September 2009, new look for the photoblog. I found a new template I like, which I modified a little bit to suit my taste. Feel free to comment on the new look!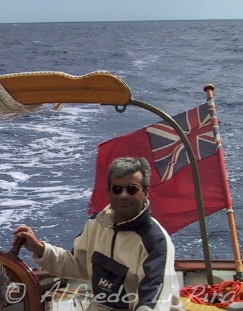 Who am I
I tend to travel quite a bit for my "day job", and I like to take pictures. I also like to share them. I was tired of emailing pictures to the friends asking for them, hence I have set up this photogallery.
Technical info
Nowadays I shoot with a Nikon D700, which I recently supplied with modern glass, i.e. 12-24 2.8 and 24-70 2.8. I also have a 70-300 VR which I use quite a lot. Occasionally I use my older Nikkors on it, like a 28 mm 2.8 MG, an 85 mm 1.8 AF, a 105 mm 2.5 MF, etc.. I also use my older Nikon D200, often with its 18-200 mm workhorse. I also still use my 20 years old and still spotless Nikon FM2 (well, it once fell in the water - but it still works!). Ages ago I shot with a nice little Pentax MX, which unfortunately got stolen - I recently both another one on eBay, you may see some pictures from it soon.
Copyright and intellectual property
These photos are emphatically not in the public domain. You cannot reuse or republish any photo on this site in any form without prior permission. You cannot remove the watermark signature without prior permission. If you like a photo and would like to reuse or republish it, please contact me using the "comments" form on the photo and ask.
Links
Pixelpost powers this site, on a personally modified version of the "braeburn2" template. Nothing fancy, though.
Contact
If you want to make a comment on a photo, please use the comment form. For any general query, request for information, you can email at alfredo.li.pira at thalatta.org